Tripawds is a user-supported community. Thank you for your support!
Hello All and I hope you are all off to a Happy New Year! I know we are delighted to bring in 2018 with our wonderful, sweet Lucy by our side. Life got away from us, but I'm posting an entry I wrote in December detailing some of Lucy's further journeys and the beginnings of radiation therapy. I apologize for my lateness, but I will keep updating, because even though I'm a bit late on time, her radiation journey and healings has been its own journey. I want to share as much as I can, and hope to continue to update in the coming days.
(So here is a look in time to Ms. Lucy's December Adventures!)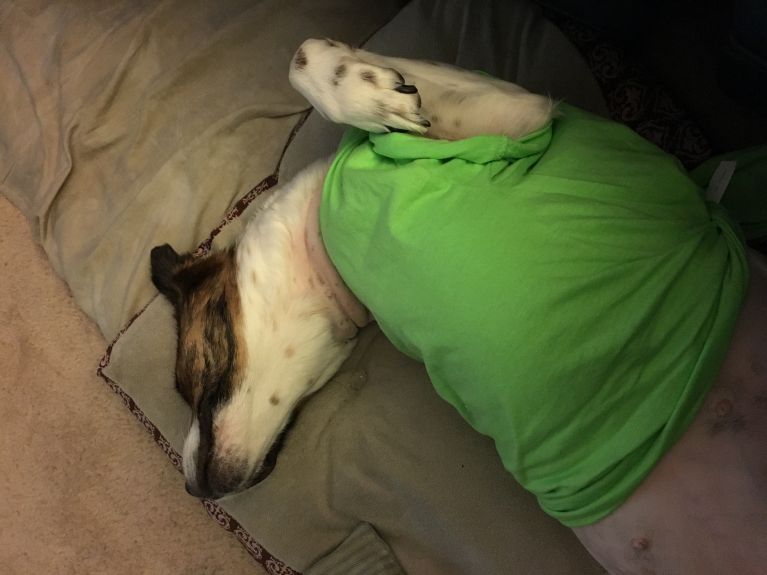 My sweet little love..
At the moment, our sweet baby girl is boarding at the vet hospital after undergoing her third radiation treatment today. Although it can be outpatient, Lucy's over-excitability in cars, the fact that she still has stitches, and other contributing factors have resulted in the best plan for Ms. Luce being to board throughout the week for treatment, then come home for the weekends. We're blessed that this is even an option, although it is painful to be apart from her. Due to this, I'm out of my mind missing a pup, so what better time to detail how we got from her surgery to radiation.
At the last post, we had just begun to navigate the post-surgery world with our baby girl. She was doing so well after her surgery, we were almost floored. She began hopping to get her water almost immediately, and after a month of Lucy eating while laying down (standing had become so difficult…), she eagerly stood up on her three legs to immediately gobble her food.
And gobble she did! As a baby pup, we had to feed her on a sheet pan to keep her from choking. As she got older, she managed to find a way to eat effectively AND voraciously. But after the tumor began degrading, her appetite completely disappeared. Now, she's back to her little "nom-nom" self. The sound of her eating, kibbles rattling in the bowl, might be one of my favorite sounds. I may or may not have a video saved in my phone of her eating for this very reason…
Following her weekend surgery, We were instructed that Lucy's bandage could come off that Monday evening. We cut it away, and her skin looked fine, sutures perfectly aligned to our eyes. We put a tee-shirt on her to keep her from scratching at the area, and were satisfied.
An hour or so later, Daddy noticed that the tee shirt had developed a small damp spot above her sutures. It was nothing like the discharge we'd been dealing with prior to surgery, merely the size of a dime, barely tinged. I had expected that maybe she would have had discharge as the wound healed, but her Daddy mentioned that he thought we were supposed to let them know about any discharge from the wound. I thought he was being overly cautious, but I promised to call them about it the next day. All I can say is thank goodness for Daddy.
When I spoke with the vet the next day, she was calm, seemed non-plused, but still asked us to come in that afternoon so they could examine her. We took her in, and with a big puppy grin, Lucy happily greeted her new friends. They examined her, then brought her back to us with another bandage. They'd found a small pocket of fluid and took a culture to identify any possible infections. As a precaution, we were given an antibiotic, and told to come back in two days for another check.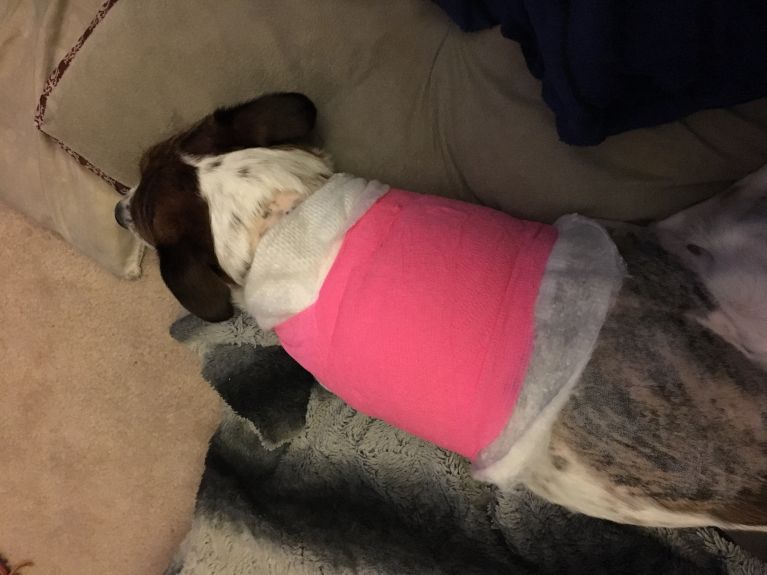 Lucy continued to improve, eating, figuring out the poo position, and generally getting used to her new mobility. She loved rolling onto her back, but struggled at times with rolling back over. Over the next few days, it was astounding to watch her mind work figuring it all out. She realized that she could lay down easier on the side she still had a leg than her other side. She began using pillows by her bed to balance her into the positions she wanted. She learned and adapted with grace.
One aspect we had not fully grasped at the time was that in addition to losing the limb, Lucy also lost her scapula. Without the shoulder, she ran more or less from head to neck to trunk. She is doing great regardless, but it was a unique aspect I wanted to include here for anyone undergoing something similar. Obviously, I have no experience with an amputated, yet shoulder-intact pup, so I can't really compare. But I do notice that it does seem to alter some of her movements when it comes to laying from a standing position.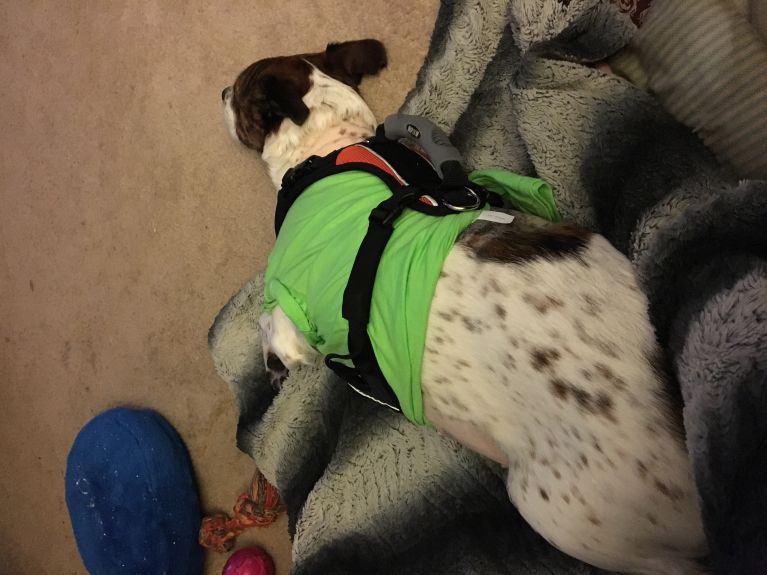 It also affects her wearing of tee shirts, etc. under her harness, which I'll get to in a bit.
We heard back from the vet the next day (…this exemplifies the care and quality of treatment that they gave to Luce and to her nervous Mommy and Daddy), and it turned out that Lucy had a resistant bacteria strain in the liquid they'd tested. They were kind enough to send the prescription to our local vet, and Lucy started 1 1/2 tablets twice a day to combat it. She acted perfectly fine, and was still bandaged, so we hoped all was going according to plan. It feels silly in retrospect to describe the passage of two days with so much detail, but every moment has been so focused on her health, I could write 100 blogs about each day with her post-op. Thankfully, all would be happy stories.
Lucy went back for her bandage check, and to our happy surprise, they removed it for good. After checking her healing, they told us that they didn't see any continuing drainage, and that she should be fine in just a shirt until her scheduled suture -removal that following Monday prior to radiation.
We had thought about a Thundershirt for our chill, yet paradoxically neurotic pup for a while now. We asked if it would be a good option for her, and the vet agreed that it works for many pups, and as a puppy-designed garment, might provide a better fit. So, long story short, that night, Lucy wore her first Thundershirt. ……And LOVED it! For her, with the lack of a right shoulder blade, tee-shirts rotated awkwardly towards her front. The over-the-chest plate, under-the-ribcage design fit her like a glove, and except for one attempt to scratch her with back legs, she completely left her stitches alone, no cone required. This is not an advertisement, but it worked wonders for her, and also seems to help insulate her during this recent cold spell while so much of her trunk is still regrowing shaved fur from her operation. (So, I just need to say, THANK YOU Thundershirt!)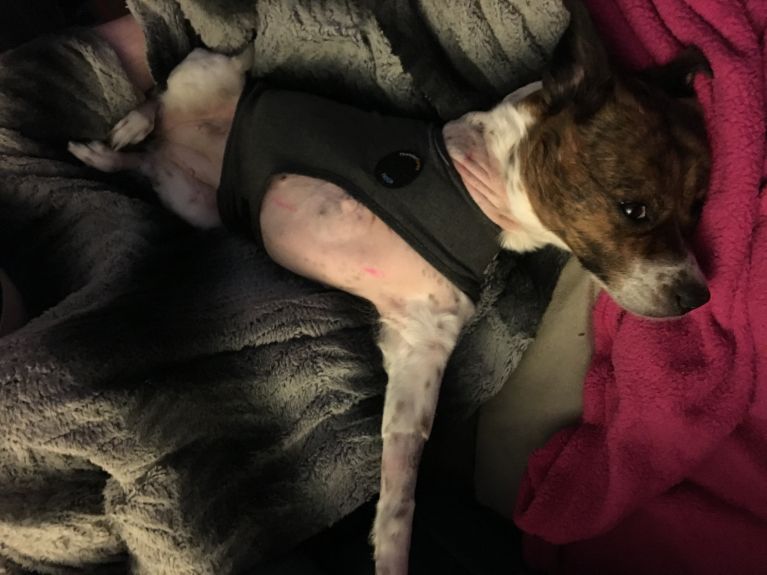 We kept up with her meds (God bless pill pouches) and she continued to grow more adventurous, startling her Daddy and I one night by running headlong for a toy and throwing down into enthusiastic gnawing, while we both freaked out about whether she'd jostled herself too much. But she kept getting more and more energetic, liberated from the tumor that had kept her captive these past months.
She'd happily jump up and trot towards us to put on her harness for bathroom-time (leash-laws are leash-laws in an apartment complex). She snarfed and wiggled and generally seemed like she de-aged everyday, as we realized that she was back to who she'd been before. How bad it had gotten so slowly that we hadn't seen how the tumor had been taking her from us minutely, day by day.
In the next post, I'll detail her radiation appointment and the follow-through. As I said at the beginning, she's on treatment 3/16 and is so far, so good.
Thank you again to the amazing vet hospital who has changed my baby's life for the better, and created a miracle that I never thought possible. It's one thing to treat a sick animal; it is another thing to communicate, care, and renew. They are remarkable and we hope someday to give back to the fund which saved our baby girl's life.
Thank you again to anyone who is following my Lucy's story. I'm proud to be able to share how incredible she is, and I hope that the information enclosed thus far might be of help to another family dealing with this issue. Again, Tripawds made me feel so much that we were not alone, and that Lucy still had a bright future ahead of her. Thanks to the multitudes of kindness she has been shown; I fully believe that her future is brighter than its ever been.
Love to you all!